Trinity Episcopal Church is one of the two oldest churches in Woodbridge Township and one of the earliest to be established in New Jersey.  The church's roots go back to 1698, when the Church of England sent missionary Edward Portlock into Perth Amboy.
Portlock held services in Woodbridge and served as the congregation's first Rector in 1698-1699. Another Anglican missionary, George Keith, followed in 1702-1703.
Members of the congregation also attended the First Church of Woodbridge, an independent meeting house built not long after the township was founded in 1669. The church was in a section of town called Kirk Green, which was set aside for religious buildings.
The First Church was non-denominational until 1710, when it decided to become a Presbyterian church. The affiliation led to numerous people who wished to maintain other denominational ties to leave. Anglicans conducted services at the Jonathan Dunham House, just north of the First Church, and in other private homes after the split.
Benjamin Dun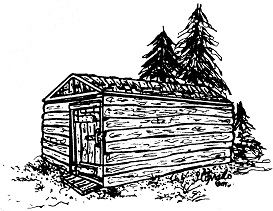 ham, one of Jonathan's sons, led an effort to build a permanent church. By 1713, the Governor of New Jersey granted permission to the Anglican community for a new building, located between the meeting house and the Dunham House. The church was a wood-framed, clapboard structure with unglazed windows and a dirt floor, as shown in this artist's rendering.
Priests of Trinity Church
1. Edward Portlock, 1698-1699
2. George Keith, 1703
3. John Talbot, M.A., 1704
4. John Sharpe, 1704
5. Edward Vaughan, 1709-1714
6. Thomas Halliday, 1717-1718
7. James William Skinner, 1722-1752
8. Thomas Bradbury Chandler, D.D.. 1752-1763
9. Robert McKean, M.A.. 1763- 1767
10. John Preston. 1767-1760
11. Abraham Beach, D.D., 1769; 1778-1784
12. Uzal Ogden, D.D., 1797-1804
13. Jasper David Jones, 1804-1809
14. James Chapman, 1809
15. John Croes, D.D.. 1809
16. John C. Rudd, D.D., 1810
17. Daniel Higbee, 1812-1813
18. Lewis P. Bayard. 1813
19. George Y. Morehouse, 1815-1816
20. Samuel C. Stratton, 1817-1818
21. Francis H. Cuming, 1819
22. Clarkson Dunn. 1819-1822
23. John M. Ward. 1822
24. Robert B. Croes, 1823
25. John Croes Jr., 1824-1825
26. Charles Smith, 1825
27. Benjamin Holmes, 1825-1827
28. William Douglas, 1829-1838
29. Frederick Ogilby, 1838-1842
30. Hamble James Leacock, 1842-1843
31. James Chapman, 1843-1857
32. Henry X. Pierce, 1857
33. William P. Earle, 1857-1861
34. Eugene Augustus Hoffman, D.D., 1858-1862
35. Peter L. Jacques, 1862-1869
36. Robert C. Mcllwain, 1869-1871
37. J. A. Penniman, 1871-1872
38. T. Lewis Bannister, 1872-1875
39. Julian Edward Ingle, 1875-1879
40. Frank Hallam. 1879-1880
41. Howard E. Thompson, 1880-1884
42. Lewis H. Lighthipe, M.A., 1885-1895
43. Rudolph E. Brestell, D.D.. 1896-1899
44. Scott B. Rathbun, 1899-1913
45. Henrv Hale Gilford. Ph.D.. 1914-1917
46. Reginald Harwood Thomas, 1918
47. Walter Herbert Stowe, D.D.. 1919-1921
48. Edward Harold Vogt, 1921-1923
49. J. Benjamin Myers, L.L.B., 1923-1931
50. Edward Randolph Welles, M.A., S.T.B., 1931-1934
51. Howard Frederick Klein. B.S., 1934-1942
52. William Harold Schmaus, M.A., S.T.B.. 1942-1980
53. Robert L. Counselman, B. Mus., M.Div, 1981-2014
54. Angela Cipolla, M.Div, 2015-