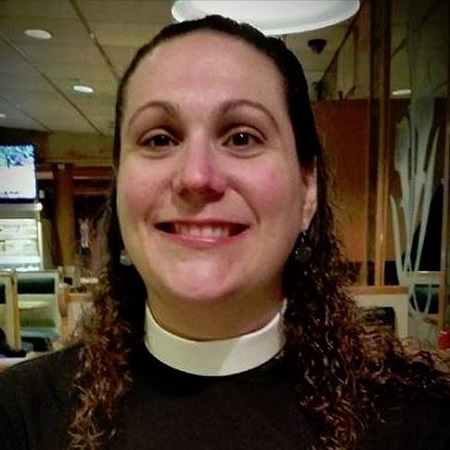 The Rev. Angela Cipolla has served as Trinity's Priest in Charge since August 2015, initially on a part-time basis and later with full-time status. She is the 54th priest to lead the congregation since a visiting Church of England missionary, Edward Portlock, led the first services in 1698.
Mother Angie is a native of New Hampshire. She received a bachelor of arts in theology from St. Joseph's College of Maine in December 2004, and a master's of divinity from the General Theological Seminary in New York in May 2014. She was ordained to the priesthood in February 2015.
She has served on the board of Recovery Ministries of the Episcopal Church, a nationwide network to address the effects of addiction in relation to the church's mission.
Before arriving at Trinity, Mother Angie was a chaplain intern at the Fire Department of New York, where she provided pastoral care to Emergency Medical Service members and firefighters. She also had internships with the Seamen's Church Institute, North America's largest mariners' service agency, and the Diocese of New Hampshire.
At seminary, Mother Angie chaired a group focusing on LGBT issues. She received a President's Award for Excellence in Leadership in recognition of her role.
Listen to Mother Angie's Recent Sermons
9th Sunday After Pentecost (Aug. 11)
8th Sunday After Pentecost (Aug. 4)
7th Sunday After Pentecost (July 28)
6th Sunday After Pentecost (July 21)
5th Sunday After Pentecost (July 14)
4th Sunday After Pentecost (July 7)
3rd Sunday After Pentecost (June 30)
2nd Sunday After Pentecost (June 23)
Mother Angie was on maternity leave from Feb. 26-May 27.