Trinity Church carries out its mission with the help of several organizations, which invite all congregants to join them.
The Adult Choir participates in the 10 a.m. Eucharist every Sunday and in services on Christmas, Easter and other holy days. Rehearsals take place before and after the 10 a.m. Eucharist. Performances are under the direction of the Organist/Choirmaster.
The Bell Choir performs at Christmas and Easter services and meets for rehearsals as necessary.  The Organist/Choirmaster serves as director.
The Altar Guild​ prepares the church for services and cares for vestments, furnishings and linens. The Guild oversees the installation and removal of church decorations for Christmas and Easter services.
St. Anne's Unit is a women's group that sponsors activities and fundraisers throughout the year, including annual remembrance books, a Strawberry Festival and a Christmas poinsettia sale. The unit meets on the first Monday of every month.
The St. Ma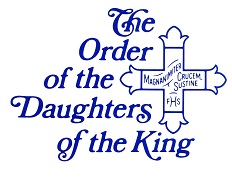 rtha's Chapter of the Order of the Daughters of the King is part of a spiritual sisterhood rooted in the Episcopal Church. Members take life vows of prayer, service and evangelism after completing a three-month, 12-lesson study program. The chapter runs a prayer chain and carries out service projects. Meetings are held on the third Sunday of the month after the 10 a.m. Eucharist.
The Valentine Society is a legacy society, commemorating those who provided major donations to Trinity throughout its history or made provisions for the church in their estate plans. Induction ceremonies are held annually.  To learn more about the Society, click here.